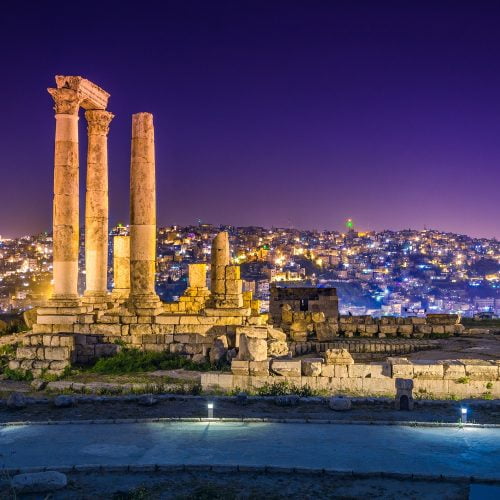 Upon arrival at Amman Airport, you will be met by our airport representative who will assist you with all formalities until you meet your tour guide and driver. Then we will head to Amman for a city tour that will take you through the Roman Theater, Citadel, and downtown. At the Roman Theater, you will get to see one of the most remarkable remnants of the Roman Empire in Jordan. The Citadel is an impressive historical site that showcases the layers of civilizations that have inhabited Jordan. The downtown tour will take you through the vibrant heart of the city with its modern shops and restaurants. After the city tour, we will head to Amman hotel for check in and dinner.
After breakfast at your hotel in Amman, we will start our journey to Petra, one of the most magnificent ancient cities in the world. Upon arrival, you will embark on a guided tour of Petra, exploring its iconic rock-cut architecture, intricate carvings, and fascinating history. You will have the opportunity to witness the impressive Treasury (Al-Khazneh), the Street of Facades, the Royal Tombs, and other remarkable sites within the UNESCO World Heritage Site. After the Petra tour, we will return to your hotel in Amman. You will have some time to relax and freshen up before enjoying a delicious dinner at the hotel.
After having breakfast at your hotel in Amman, we will begin our day by visiting Mount Nebo. This biblical site is believed to be the place where Moses viewed the Promised Land before his passing. From the platform in front of the church, you can take in breathtaking views of the Jordan Valley and the Dead Sea. Following the visit to Mount Nebo, we will proceed to Madaba, known as the "City of Mosaics." You will have the opportunity to explore its rich mosaic heritage, including the famous 6th-century mosaic map of Jerusalem and the Holy Land at St. George's Church. After the Madaba tour, our associates will be available to assist you with your departure from Amman Airport, ensuring a smooth and hassle-free experience.
Entry Visa Jordan Free, we need full passport details.